Singer Samantha Scarlette, who has 87,000 followers on Twitter, dressed up as an Adore era D'arcy Wretzky for Smashing Pumpkins' recent show at Madison Square Garden in New York. You can view photos and video below.
Billy Corgan recently shared a photo of another fan who attended a concert, "I love this pic. To me, it says everything about the journey we are all on together. Or, like if you go to Universal and you see people young and old, from every background, dressed in their HP robes and wands, enjoying themselves. Belief, or faith in community is what will stop these endless proxy wars and this hyper-politizization (is that a word?) of one another simply because 'you-do-not-believe-what-I-believe!' Or: I hate you because the movie in your mind has a different ending than the one playing in my mind. It's easy to say we have to stop this divisiveness, but the simple fact is that this kind of darkness can't go on forever.
History tell us that. So hear me when I say that I am not here to tell you what to believe, or who to love, or what you should care about: be it water quality or veganism. And sometimes, sadly, that attitude gets confused with me having an opinion. Big surprise: I have an opinion on just about everything, but it doesn't mean I'm right (although Courtney did finally admit on stage the other night that 'Billy is always right' LOL) or that my use of LOL's or emoji's is current or cool or that what you'd die for is what I'd die for. As we say in wrasslin', I'm not a mark, not for anything or anyone that hasn't earned my respect. And the woman pictured here has mine cause she's part of our family and that's all I need to know about her to show her my fidelity even though (and it's a guess) we might disagree about some hot button issue (which golly gosh just might be an issue drummed up by our friends in the media).
No, we as a global people are gonna start coming together and finding common ground and it's just the way it has to be. And the same goes for America. We have to get our inner demons straightened out, and there are many. But this is also the country that gave me the opportunity to live out my dream of making music, and I am grateful. And like a good friend, the US can take the criticism as long as it's well intended just like my God (and maybe not yours?) can handle my sarcasm. For after all, didn't He or She make us as we are? For when I look out into a sea of faces, weird as I am up there, I just see a beautiful chorus."
Vibing to @SmashingPumpkin SOMA at @TheGarden last night ??? pic.twitter.com/nXJQ4EhMZ9

— SAMANTHA SCARLETTE (@SammiScarlette) August 2, 2018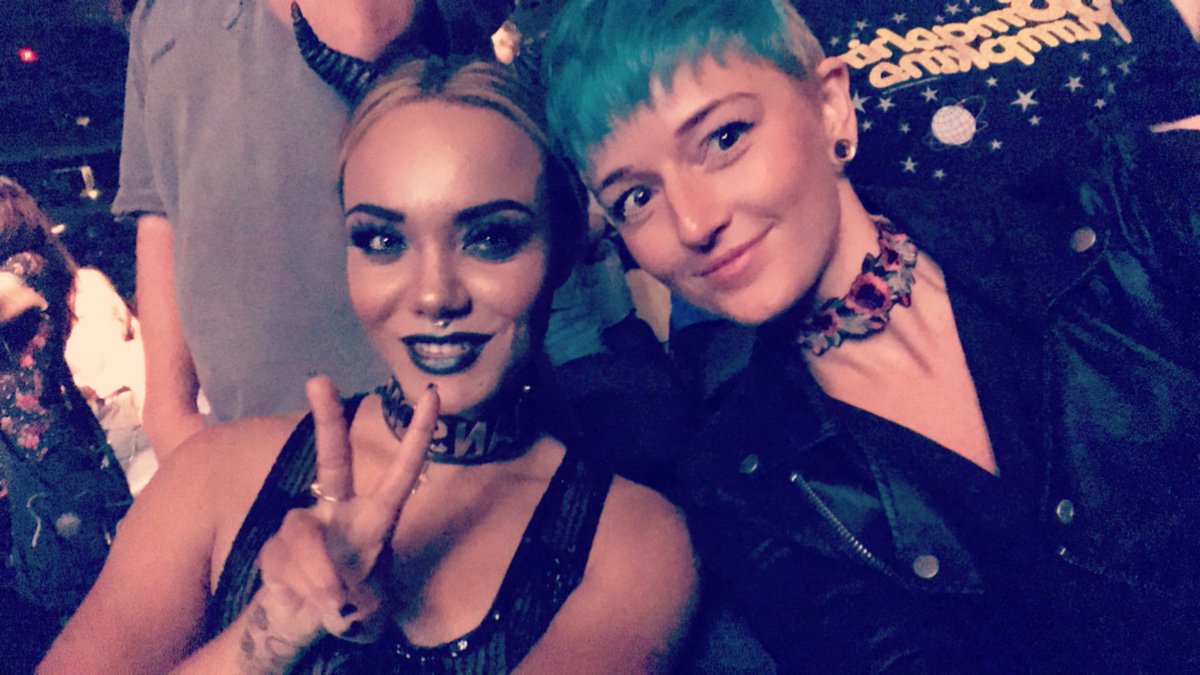 Haha black D'arcy Wretzky met black @Billy Corgan. Haha @SmashingPumpkin pic.twitter.com/gYdRV8diyS

— SAMANTHA SCARLETTE (@SammiScarlette) August 2, 2018